FRANKLIN — Three years ago Megan Johnson, a mom of two, learned that a basic need wasn't being met for a third of families across the country: diapers. So, she got to work.
"We have a large mountain to climb to end diaper need in our community," Johnson said.
In 2020 she founded the Milwaukee Diaper Mission to help distribute diapers to community partners and families in need. It was something that resonated with new mom, at the time, Mariah Riddlesprigger.
"Knowing that other moms have to decide between food and diapers and different things like that, I just can't imagine," Riddlesprigger shared. "I'm so blessed that I'm not in that situation. I just kind of want to help as many moms and as many families in general."
In 2021, Riddlesprigger teamed up with the Diaper Mission to host a diaper drive called 'Maverick's Diaper Mission,' named after her second son with fiancé and Bucks star Giannis Antetokounmpo. The couple is expecting their third child, a baby girl, in the coming weeks.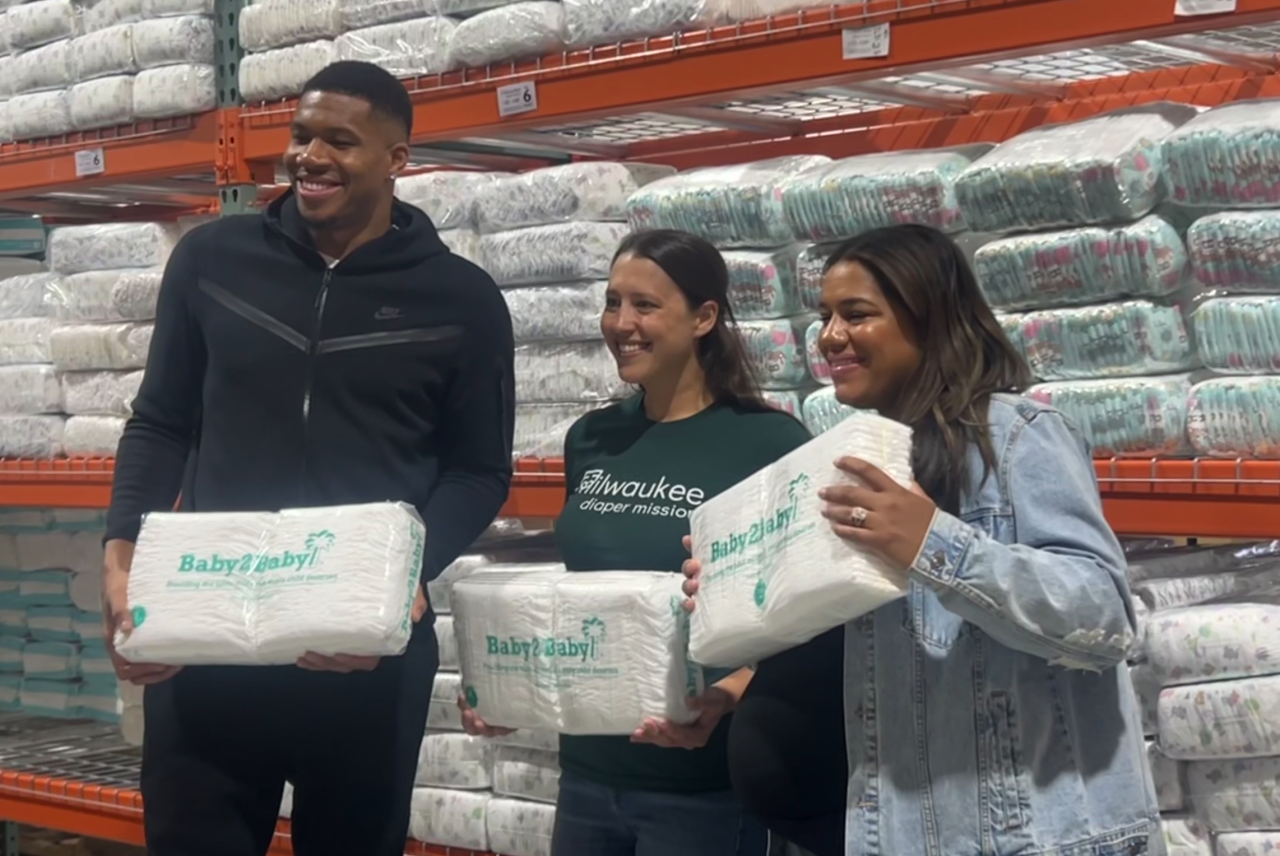 Riddlesprigger is now on the board of the Milwaukee Diaper Mission. Working together with Johnson, the diaper mission has distributed 1.2 million diapers to families in Milwaukee.
"We are distributing 100,000 diapers a month right now," Johnson shared. "Because of amazing volunteers and supporters we do find ourselves being able to grow and expand at a pretty exponential rate."
Seeing the diaper mission continue to expand it's reach beings joy to Riddlesprigger.
"Seeing the growth has been amazing for me. I just want to help as many people as I can in this community, in other communities," Riddlesprigger shared.
It's a mission that resonates with Antetokounmpo as well.
"To use your platform to do something good and be able to give back, especially for me in the the community that helped me 10 years ago and has allowed me to grow as a person, as a basketball player, as a father, it's big," the NBA superstar said.
But as the Milwaukee Diaper Mission has grown so has the need. Today about 49% of families struggle to afford diapers.
That's why Johnson and Riddlesprigger are encouraging the community to donate to the Milwaukee Diaper Mission next week during Diaper Need Awareness week.
Johnson said that just $10 goes a long because the organization is able to buy diapers wholesale and stretch each dollar further than you might be able to at a grocery store. You can donate to the Milwaukee Diaper Mission by clicking here.
"The support of our community is needed much more than ever before," Johnson said.
And you certainly don't have to be an NBA MVP or a board member to make a difference.
"There's no way I can help the whole world, but you can start somewhere," Riddlesprigger said. "I think this is where we start and where we continue to build and help as many people as we possibly can."
---
It's about time to watch on your time. Stream local news and weather 24/7 by searching for "TMJ4" on your device.
Available for download on Roku, Apple TV, Amazon Fire TV, and more.
---