GREEN BAY (NBC 26) — Cory Groshek is running Green Bay's only curbside compost pickup service, right out of his backyard.
"I make this easy, clean and convenient," he said. "Those are the three things I hear from most of my subscribers."
After only two months, Groshek and his subscribers have already kept more than 2,000 pounds of organic, would-be waste out of our landfills.
"Doing what I'm doing with Greener Bay Compost, basically turning food waste, paper that's compostable into a really rich, nutrient-dense soil amendment just ties right into my environmentally-friendly nature," said Groshek. "Which I'm hoping to pass on to the rest of the community."
His composting site is small; he can currently hold less than 15 cubic yards of material in his five compost pens, and the Wisconsin Department of Natural Resources considers him "small scale," therefore not needing a license. Before Groshek started Greener Bay Compost, the Brown County Resource Recovery had a compost program where residents could drop off their organic waste, but it was discontinued recently. Groshek saw the need still existed in the area, and created a business completely distinct from the County's; each subscriber gets an empty five-gallon bucket, lined with a biodegradable trash bag with wood chips at the bottom (to prevent smell), on a weekly or biweekly basis. Two months since launching Greener Bay Compost, Groshek is already up to 37 subscribers, most of whom are on every-other-week pickup plans, like Marianne Oates.
"I just keep it in the garage," she said. "When we're making food, I'll just put it out there and when it's ready for pickup, I just put it on the porch, and he is so efficient with how he does things that it's so simple. Everybody should be doing it."
Groshek makes rounds to each of his subscribers at the end of the week, picking up buckets left at the end of their walkways or on their front porches, bringing it back to his residence and adding the waste to his pile.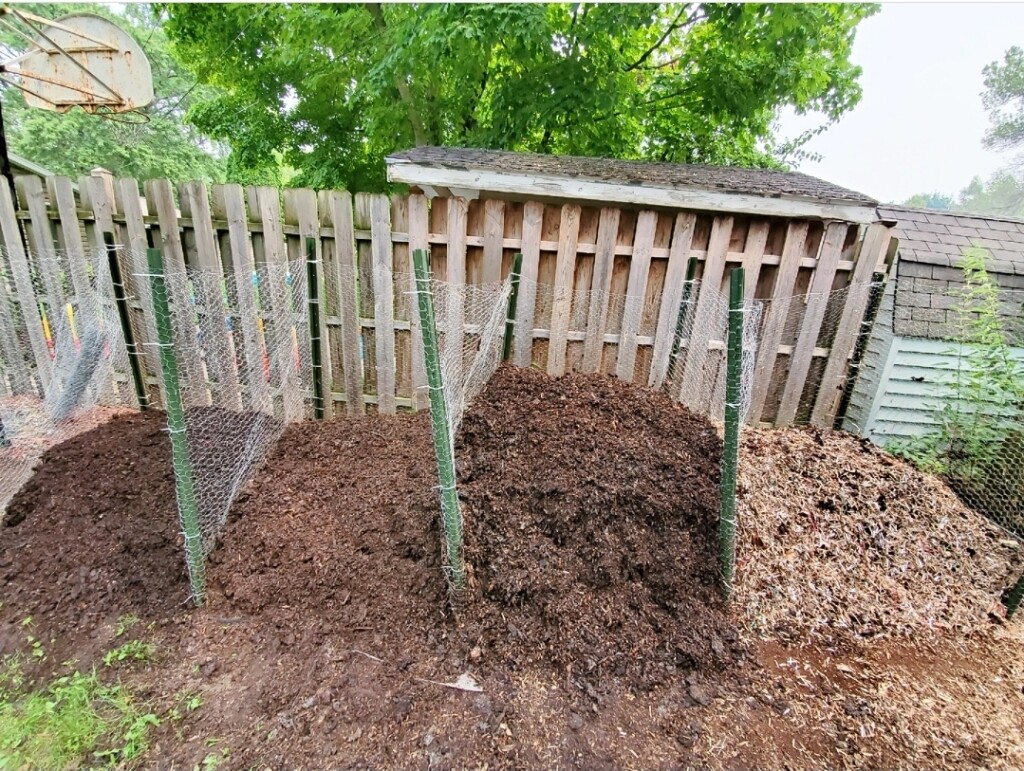 "There is no going to a dumpster, like with the old food waste program in Brown County," said Groshek. "No going up to the dumpster and getting hit in the face with smells and flies. None of that."
Groshek likes to bust myths about composting, for example, that compost piles smell, or they attracts rodents. Proper piles creates a lot of heat in core; the inside of a pile can reach up 180 degrees, he said, which deters pests. If Groshek 'turns' his piles, and steam rises out of them, it means he's maintaining his pile correctly.
"Microbes are tiny little organisms, they're just like us," he said. "They need food, air and water to survive, so my job as a 'microbe farmer' is to give them what they need to not just survive, but thrive. There really is no smell if you do compost properly. It also doesn't attract rodents."
The GBC founder continues to expand his business, now collaborating with local businesses. He takes coffee grounds and some food scraps from both Glas Coffee downtown and Crystal Coffee. He even takes egg shells from Cheesecake Heaven, but he says his main focus is on residential subscribers. Groshek is continuing to work with the community, initiating collaboration with UWGB.
"UWGB was named 'Eco U' in the 70s," said Daniela Beall, Sustainability Coordinator. "And really, we want to live up to that name and continue growing and expanding that legacy. Connecting Cory to UWGB's Small Business Development Center and the Environmental Management and Business Institute are ways to help him grow, and also offer students opportunities for internships and experience."
Greener Bay Compost runs a reward program for subscribers; for every 15 pounds of organic waste, they can get one pound of the nutrient-rich soil to use for themselves, or to donate. Groshek ultimately hopes to donate the much of the soil he create to local gardens.
"Help our neighbors, friends and everybody else in the community grow some healthy food," he said. "And make their flowers really pretty for next year."
All of Greener Bay Compost's subscribers have different motivations for wanting to compost their waste. Many people are just passionate about being sustainable and doing their part to combat climate change, but others have our local economy in mind.
"That saves us taxpayer money," said Groshek. "What a lot of people don't know is landfills are expensive to operate. If you fill them up, you need a new one. Our money would be better spent supporting small businesses like mine that take that stuff and actually make something useful, that will actually stay in Brown County and enrich our soil, and basically make life better for all of us."
Ultimately, Groshek hopes to grow his business enough to expand into an indoor facility, because the winter does slow down the process of composting (although not completely; he uses straw bales and tarps to insulate the piles). The indoor space would recycle water and trap rainwater, and could create up to 100 jobs, said Groshek. He would be able to offer drop-off services as well, so local residents who live in apartment buildings or places without an accessible outdoor space could subscribe as well.
Greener Bay Compost has four different subscription plans:

An every-other-week pickup, paid $10 month-to-month
An every-other-week pickup, paid $45 for 6 months
A weekly pickup, paid $20 month-to-month
A weekly pickup, paid $90 for 6 months
You can subscribe here.