GREEN BAY, Wis. (NBC 26) -- In the past year, hunger skyrocketed.
And while the New Community Shelter helped meet that need with its meal program, volunteers like Otis Roberson say it's meant to fill more than just the community's stomachs.
"They come here, they might not eat the dinner, but they're here to have conversation, to have that cup of coffee, to have that drink of juice or milk," Roberson said.
For the first time since the start of the COVID-19 pandemic last March, the Green Bay-based shelter served meals to the public in person on Tuesday night. So members of the community can eat together once again.
As a former shelter resident, Roberson says the meal program introduced him to some of his best friends.
"If you're busy talking, sometimes you don't worry about other situations," he said. "It makes you feel better. It makes you feel a part of something."
But without an in-person community meal for 442 days, Roberson says some people lost that sense of belonging.
"It's like when you miss that favorite uncle or that favorite auntie, that mom figure… you miss that," Roberson said.
And New Community Shelter CEO Terri Refsguard says hunger has increased with the need for social interaction. The shelter served nearly 160,000 meals in 2020.
"For some, this is kind of like their home, even though they don't live here," Refsguard said. "They come to eat here."
Without that ability, Refsguard saw a difference.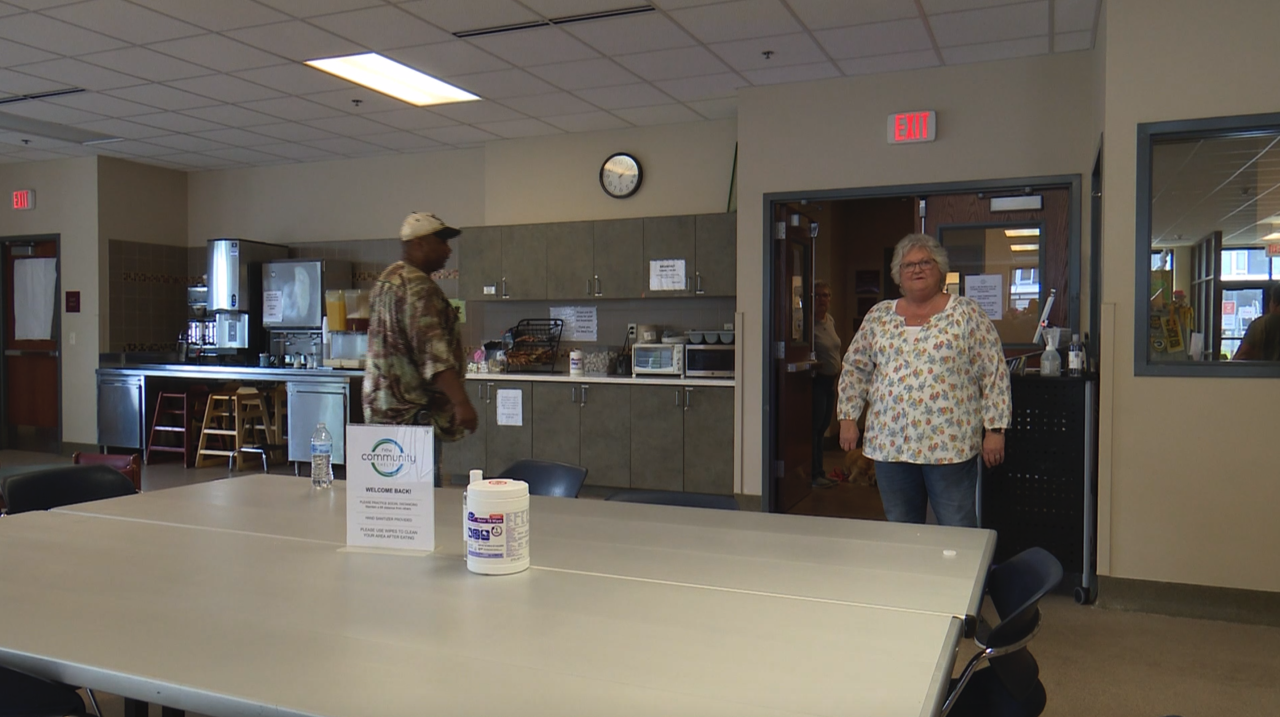 "Those that would come in every night [and say] 'hi, hi, how are you?,' we could see that deteriorate a bit," Refsguard said.
Now, the shelter is prepared to serve hundreds of people in person again -- people Roberson considers family.
"That type of environment is priceless," Roberson said. "And I always say priceless, but it is to me."
"The first few months we closed the dining room, community meal participants asked daily if we would be back again tomorrow," Refsguard said. "We assured everyone that we would not close our meal program - we couldn't because there are too many people who rely on the program to feed themselves and their families."
In 2020, nearly 162,000 meals were served to the public, a 67% increase from 2019. The shelter reports a 79% increase in food given to children.
"Despite the challenges we faced as an organization, we soon found that even more people needed our help, so keeping our program going was crucial," Refsguard said. "So today is a very big day for the shelter, meal participants, and our loyal volunteer groups."
Without in-person dining, the shelter did not have volunteers to prepare and serve the meals to go.
"We have 65% of our volunteer groups back in the shelter preparing and serving meals," Refsguard said. "We don't have a volunteer group in today, but it will still be nice to welcome people back into our facility."
The shelter says it will take temperatures at the door to continue its safety precautions.
Dinner is served from 5 to 6 p.m. every day of the week. Lunch takes place from 11:30 a.m. to 12:30 p.m. on weekends and holidays. To-go meals are still available as an option.
The Salvation Army of Greater Green Bay serves lunch five days a week from 11:30 to 12:30. Local food banks like Paul's Pantry and Feeding America also provide meals for pick-up throughout the week.