GREEN BAY (NBC 26) — The Green Bay Police Department is honoring a special member of its force as National Police Week begins.
GBPD and the Bark 'n Blue Foundation revealed the new K9 memorial Monday morning. The monument is dedicated to the department's K9 partners.
"This dog is representative of all the dogs that have served throughout our history, both past, current, present and future dogs," said Ofc. Craig Carlson, Green Bay Police Department.
"These dogs go through so much in their careers of six to ten years that we spend with them," said K9 Ofc. Taylor Clark, Green Bay Police Department. "Each dog on this memorial - and the current dogs - are responsible for hundreds, if not thousands of building searches - both commercial and residential - narcotic sniffs, preventative explosive sniffs at Packers games or even around the state."
The bronze monument weighs more than 200 pounds. The statue represents K9 Neo, who served the department 10 years before ending his last watch in August.
Some of his ashes are in a box, which is welded inside the monument.
"K9 Neo will now play another key role: Honoring and remembering all the sacrifices made by working dogs of the Green Bay Police Department," said Heather Heil, The Bark 'n Blue Foundation.
Chief Chris Davis, Green Bay Police Department, said their K9s not only keep officers safe, but the community as well.
"Our dogs are cross trained in finding people and finding drugs, which is becoming especially important as we struggle with fentanyl and methamphetamine issues in our community," Davis said.
GBPD teamed up with the Bark 'n Blue Foundation to raise $31,000 for the K9 memorial. Heil said all the money came from community donations and special events.
Now, serves as a permanent reminder of the K9 and handler's service.
"All in all I think this memorial is a great way to show our respect for these dogs. They might be gone, but not forgotten," Clark said.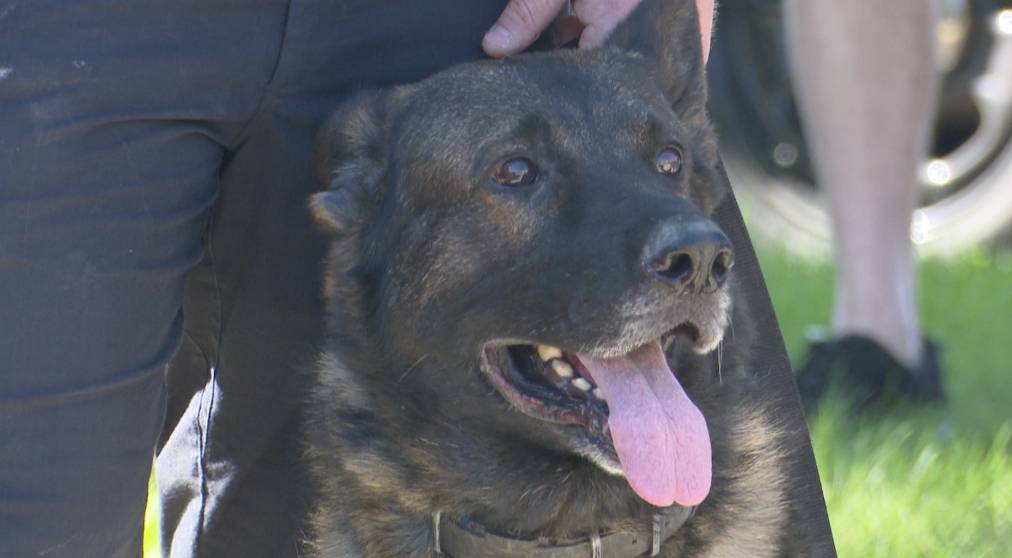 Davis said they see a need for another police dog in the department and hope to add another to their K9 unit at some point in the future.