DE PERE (NBC 26) — With schools out for the summer, a free meal program in De Pere is benefiting dozens of area families in more ways than one.
The Summer Food Service Program, a federally funded, state-administered reimbursement program, started Monday. Families gathered at Optimist Park to fill paper lunch bags with cheese chompers, milk, fresh fruits and vegetables.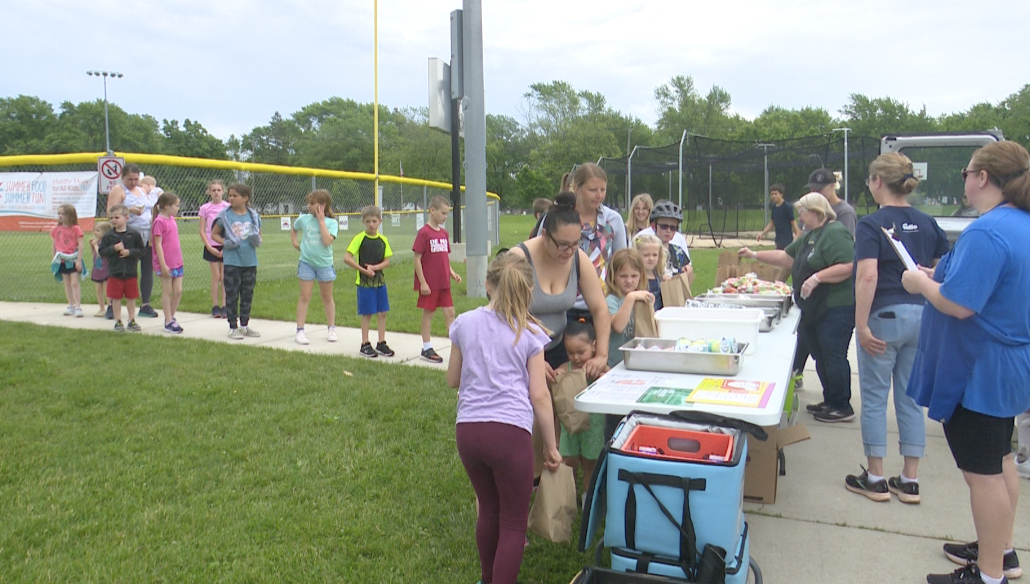 This was the first time since the COVID-19 pandemic kids were required to eat their meals on site once again. For the last two years, families had to pick lunches up to accommodate COVID safety measures.
"It's a great way just to get outside, meet new friends, play on the playground," said Kimberly Kelk, Ledgeview. "They always have a nice variety of healthy food."
With two school-aged kids - and rising food prices - Kelk said the program is also a good way to save some extra money.
"Every week I would say at least $50-$100, especially if we go out for lunch," Kelk said. "Much cheaper than going out for lunch."
On the other end, higher prices are an added challenge when buying food for the program.
"Our costs are considerably higher than what they have been," said Heather Reitmeyer, Unified School District of De Pere nutrition director.
Reitmeyer said they've also run into issues with product availability.
"Throughout the year, there's been times when we weren't able to get in some of our usual products, like some of our chicken products or beef products that the manufactures just weren't making," Reitmeyer said.
While the program isn't allotting a higher reimbursement to cover additional costs, Reitmeyer said the school district has received some grants to buy local produce and milk. She said they purchase a lot of fruits and vegetables through seasonal produce and the USDA DOD Produce Program.
"It's all about budgeting our program," Reitmeyer said. "It's all about finding ways, and that's what our program really does is we just find the way to bring food to the park."
Reitmeyer said the pandemic brought more awareness for school nutrition programs. Because of that, she said they're prepared to feed even more kids this summer, despite higher food prices.
The Unified School District of De Pere is running the free summer meal program weekdays from 11:30 a.m. to 12:15 p.m. while summer school is in session through August 19. The meals need to be eaten at the park.
People 18 and younger are eligible to get a free meal, as well as those over 18 who are disabled and enrolled in public or private school.