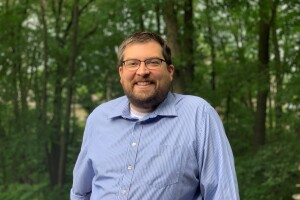 Phone: (920) 490-2680
Email: john.laughrin@nbc26.com
What is your job?
My job is to lead all aspects of the news operation for NBC 26. It's an honor to work with our talented group to bring quality, relevant news coverage to my home community.
When did you start working here?
I started with NBC 26 in March 2019.
Where else have you worked?
I've worked at WLUK-TV and WFRV-TV in Green Bay, WI, WAOW-TV in Wausau, WI, and WBNG-TV in Binghamton, NY.
Where did you go to college?
University of Wisconsin-Green Bay (Go Phoenix!)
Where did you grow up?
I was born in Green Bay and attended Pilgrim Lutheran School through 5th grade. Then my family moved to the Fox Valley, and I went to school in Little Chute (Go Mustangs!).
What are some of the biggest news stories you have covered or led coverage of?
The Packers in Super Bowl XLV would be at the top. It was a privilege to travel to Texas to support a very talented group of journalists in covering the Packers big win over the Steelers. Presidential elections, the Coronavirus pandemic, September 11th, and 30+ inch snow storms also make the list of some of the biggest stories I've covered.
What is your philosophy on news?
It's our job to present all sides of an issue and let you decide who you agree with. I can't tell you how much I appreciate people counting on us and trusting us as their local source for news. Whether it's a traditional newscast, web update, or social media report, my goal is for you to be informed and entertained when you see our content. We aim for our news reporting to be fair, honest, transparent, aggressive, relevant, and really focus in on what matters to you, right here in our northeast Wisconsin community.
What do you love about living here?
It's been so great to be back home! It means so much to me to be able to lead the charge in telling meaningful stories in the community I grew up in and care so much about. I also certainly love working at the "Official Packers Station," being able to cover my favorite team (Go Pack Go!).